Diversifying Diplomacy: My Journey from Roxbury to Dakar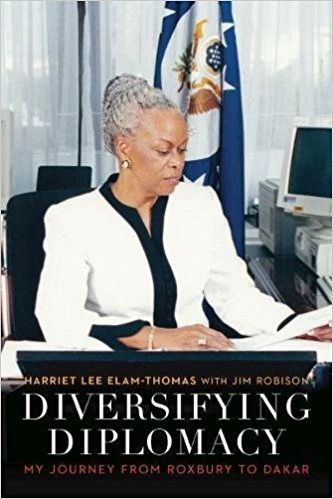 Diversifying Diplomacy: My Journey from Roxbury to Dakar
*** Books will be

available

at the "Author Talk & Book Signing" on December 10, 2017!
Diversifying Diplomacy: My Journey from Roxbury to Dakar

by
$29.95

"Diversifying Diplomacy," tells the story of Harriet Lee Elam-Thomas, a young black woman who beat the odds and challenged the status quo. Inspired by the strong women in her life, she followed in the footsteps of the few women who had gone before her in her effort to make the Foreign Service reflect the diverse faces of the United States. The youngest child of parents who left the segregated Old South to raise their family in Massachusetts, Elam-Thomas distinguished herself with a diplomatic career at a time when few colleagues looked like her.

Elam-Thomas's memoir is a firsthand account of her decades-long career in the U.S. Department of State's Foreign Service, recounting her experiences of making U.S. foreign policy, culture, and values understood abroad. Elam-Thomas served as a United States ambassador to Senegal (2000–2002) and retired with the rank of career minister after forty-two years as a diplomat. Diversifying Diplomacypresents the journey of this successful woman, who not only found herself confronted by some of the world's heftier problems but also helped ensure that new shepherds of honesty and authenticity would follow in her international footsteps for generations to come.