We Ain't No Niggas! Exposing the Deception of YOUR World History Education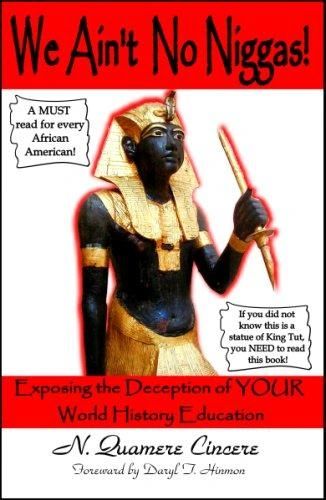 We Ain't No Niggas! Exposing the Deception of YOUR World History Education
We Ain't No Niggas! Exposing the Deception of YOUR World History Education

by N. Quamere Cincere
$15.95
The history education you received in school was (and still is) unjustifiably skewed! It focused on the negative aspects of African and African American history and positive aspects of European and European American history. This educational imbalance is a major cause of the social, financial and political imbalances of society today!
We Ain t No Niggas! freely guides you through mental exercises and examples to logically prove the imbalance in the published history of white and black people. The book goes on to thoroughly document what you were not taught to bring you the devout gift of true and full history!
We Ain't No Niggas! will free your mind from the influence of the intangible force that taught you black is wrong and white is right. The information within LEVELS THE PLAYING FIELD by bringing you the unadulterated truth; the rest of the story; the rest of his-story; the negative side of European history and the positive side of African history to create balance and equality in society. Benefits: Learn documented historical facts that reveal the positive aspects of African History and negative aspects of European History. Receive instruction on how to balance you and your children's cultural knowledge base which will intensify your self-esteem. Receive inspiration to improve your social, educational and financial positions by gaining a proper respect of people of African descent based on their worldly accomplishments instead of the pity of other cultures.