Wooden Coffin Incense Sticks Cone Burner Holder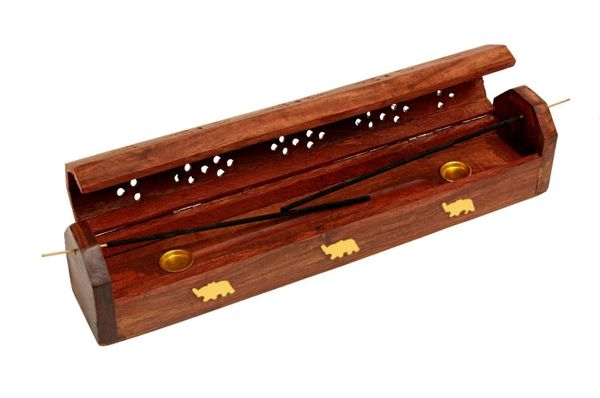 Wooden Coffin Incense Sticks Cone Burner Holder
Wooden Coffin Incense Sticks Cone Burner Holder Stand with Storage Compartment Ash Catcher Hand Carved with Elephant Brass Inlay
14.95
· Dimensions : Length - 12, Width - 2 inches, Height - 2.5 inches.
· Crafted using one of the finest richly hued timbers Rosewood and further adorned with elephant shaped brass inlay.
· Place your incense cones on the two brass pots or light up your incense sticks into the holes on both sides. You can also light them all together and create a unique, enchanting aroma of your own.
· Once you close the lid, the aroma will drift out through the cut-outs. The holder comes with a hidden compartment at the bottom that will retain the freshness and fragrance of the incense
· Handcrafted by artisans from Saharanpur - India's largest hub for high quality wood and iron ware. This can be an apt gift for any household.